Environmental permit for Mona waste plant on Anglesey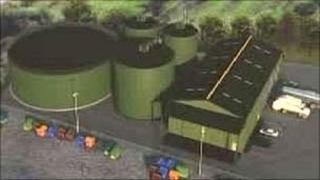 The Environment Agency has given its final permission for a food waste electricity plant at Mona on Anglesey.
Anglesey EcoParc Môn now has an environmental permit to break down waste and other material to produce fertiliser and power.
The gas that is produced during the process will be used to generate electricity.
Despite local objections, Anglesey council granted the plant planning permission in December 2009.
The agency said it had set the highest possible standards on the anaerobic digestion plant.
It said the permit would make sure the plant would conform to standards that would protect nearby communities and the environment.
The permit regulates the impact of the plant on the environment by setting conditions on its emissions to air, land and water.
The agency consulted with Betsi Cadwaladr University Health Board, Animal Health, Anglesey council, the RAF and local people.
David Edwell, Environment Agency Wales' area manager for north Wales, confirmed the permit had been granted.
Emission limits
"A rigorous assessment over the last few months shows that plans are in place to operate this plant to the highest environmental standards," he said.
If the plant is built, Environment Agency Wales officers say they will enforce the strict emission limits and operating standards "throughout its lifetime".
The permit does not cover issues such as traffic, visual impact or operating hours which were considered part of the planning permission process.
In December 2009, Anglesey councillors approved planning permission despite local objections.
Objectors claimed there was no need for a plant of its size on the island.
They also claimed that waste, including abattoir by-products, would be brought in from elsewhere.