Last day at Pwllheli magistrates court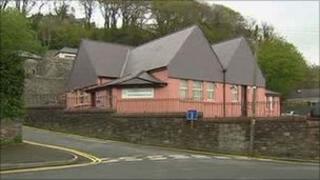 Pwllheli Magistrates Court is sitting for the last time before it closes under £37m cost-cutting plans.
After Wednesday, the nearest courts will be in Caernarfon and Dolgellau, 21m (34km) and 38m (61km) away.
Objectors say the Pwllheli closure brings to an end centuries of 'local' justice on the Lleyn peninsula.
The courts and tribunals service said there was public consultation and the cuts would provide value for money.
Magistrate Gareth Heulfryn Williams said it was a great help when magistrates know the area where an offence has been committed.
"As the areas being covered (by courts) get too big you then lose that local knowledge of an area," he said.
'Sad day'
"Because of this the idea of local justice is lost," he added.
There were also practical considerations as not just the defendants had to travel further, but also the court officers, witnesses and solicitors, he said.
Both Caernarfon and Dolgellau magistrates courts were already very busy and there was a problem in reaching Caernarfon by the time court starts in the morning because of the bus service, he added.
Pwllheli town councillor Michael Sol Owen, said the council had fought to save the court, and it was a sad day for the town historically.
"In 1355 a charter was granted to Pwllheli with some sort of administrative and law centre, and it is a pity to see this tradition go," he said.
"We fought hard, the town council fought hard, as Pwllheli serves a large hinterland on the Lleyn... if you are going to court you are going to have to travel quite a distance now," he added.
Eight magistrates and county courts in Wales have already closed under the plans to reduce the system in England and Wales. County courts in Aberdare and Pontypool are also set to close this month.
'Value for money'
At the end of the year Barry, Ammanford and Aberdare magistrates court will also shut.
An Her Majesty's Courts and Tribunals Service spokesperson said the UK government is committed to supporting local justice, enabling justice to be done and be seen to be done in our communities.
"The closure of Pwllheli Magistrates' Court and the movement of work to Caernarfon Magistrates' Court and Dolgellau Magistrates' Court will mean court services in the area are much more cost-effective," he said.
Keeping under-utilised courts open is "simply not a good use of taxpayers' money and resources must be targeted to best effect in order to provide value for money", said the spokesperson.
"Pwllhelli Magistrates' Court sits two days per week in one courtroom and its current utilisation is 29 per cent.
"It has limited compliance with the Disability Discrimination Act and there are few consultation rooms and no witness service facilities."
There was sufficient capacity at the Caernarfon and Dolgellau courts to absorb the workload, the spokesperson said.