Grant Yuill baby methadone case: call to learn lessons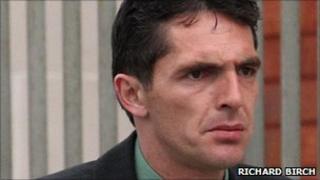 A report into the case of a couple from Gwynedd who gave their baby daughter the heroin-substitute methadone says lessons can be learned.
But the review for the Gwynedd and Anglesey Local Safeguarding Children Board says nobody could have foreseen what happened to the child.
Both parents have been jailed for the ill-treatment of their daughter.
The report states that social services, health professionals and police can improve the way they work together.
Earlier this month Grant Yuill, 38, of Porthmadog, was jailed for eight years for giving methadone to his daughter in a bottle of milk.
His partner Nia Jones, 31, was also jailed for the ill-treatment of her daughter.
Caernarfon Crown Court was told exposure to the drug had affected the child's development and she had been taken into care.
The serious case review concludes: "This is an exceptional case... in the overview author's opinion no one could have foreseen this particular outcome.
"However, in the overview author's opinion, the case provides valuable learning points."
It said there was no evidence to suggest a reluctance to work together or share information but the system could be improved.
The safeguarding children board chairman, Iwan Trefor Jones, said he welcomed its recommendations.
The report was completed in December but could not be published due to court proceedings.
"We would note that the agencies responsible for protecting children in Gwynedd and Anglesey have already made substantial progress towards addressing the recommendations and this work will continue over the coming months," said Mr Jones.