Gwynedd nurse Alan Roberts cleared of assault on appeal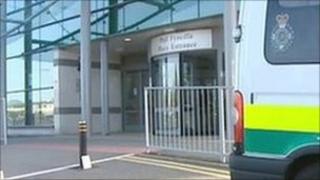 A senior nurse convicted of assaulting an 88-year-old patient in hospital has been cleared on appeal.
A judge, sitting with two magistrates at Mold Crown Court, found Alan Roberts had used unlawful violence against the woman when putting her in a chair.
But they said they were not satisfied he caused her actual bodily harm in the incident at Ysbyty Gwynedd, Bangor.
Mr Roberts, 51, of Bethesda, who has been suspended for a year, said he would now apply to return to work.
He had denied grabbing the patient and pushing her onto a chair, causing an injury to her hand.
He claimed that he used appropriate and reasonable restraint as he had been trained to do.
But following a two-day trial in April at Caernarfon Magistrates' Court he was convicted of assault.
During his appeal he told how he was on Moelwyn ward speaking to a GP on the phone about a patient who was very poorly when the woman, who had been disruptive, interrupted him three times.
He said he began to usher her towards a chair but she tried to slap him and kicked his shin.
During cross examination he denied grabbing her by her clothes and pushing her into the chair.
'No clear evidence'
Judge Niclas Parry, sitting with two magistrates, said they did not find his evidence that the patient had gone to slap him, causing him to spin 180 degrees, to be credible.
"We are satisfied so as to be sure that the appellant did use unnecessary and unlawful force," the judge said.
But there was no clear evidence that unlawful force caused injury.
Judge Parry said the defendant had fallen below the standards expected but as the court could not be sure that the woman had suffered harm, as a result the appeal was allowed.
Speaing after the case, Mr Roberts said that he was glad it was over.
"I just want to get on with the rest of my life."
He also said he wished to thank his family and friends for the support they had shown him.