15 jobs go as Finney's closes Bangor furniture shop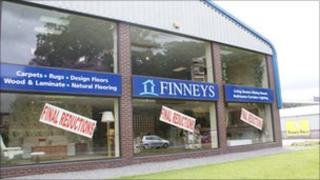 A furniture and carpet company in Bangor has gone into voluntary administration with the loss of 15 jobs.
Finneys has been trading in the Gwynedd town since 1957.
Managing director Peter Fox said the company would now concentrate on being commercial landlords.
The company has promised to honour all items ordered and said every deposit paid will be returned.
Initially, the business specialised exclusively on carpets and vinyl flooring before expanding with a range of commercial flooring and furnishings.
"My grandfather set up the business back in 1957 and it's a shame that we have to take these steps, but in the current economic climate we have to be realistic," said Mr Fox.
Mr Fox said that the company foresaw it would not be "financially viable" to continue its retail arm.
"We would like to thank our customers for their faithful support over the years and we are touched by all the people who have thanked us for our service to Bangor," he added.
Mr Fox added that he did not rule out a return to re-establish the retail business in the future.
"We will continue to concentrate on being commercial landlords from know on, but we must stress that if the opportunity arose in the future, then we might resume our retail arm of the business," he said.