Resolution 'as soon as possible' at Benllech school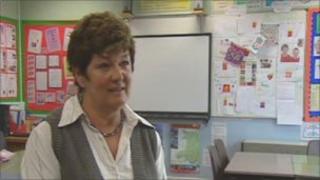 Problems at an Anglesey school must be resolved "as soon as possible", says the council commissioner with responsibility for education.
In May teachers at Ysgol Goronwy Owen in Benllech, who are UCAC union members, passed a motion of no confidence in the head teacher.
Five of the six staff are also off with supply teachers doing their work.
Commissioner Gareth Jones said despite years of experience in education he has never come across a situation like it.
"As commissioners, we are all keenly aware of the seriousness and complexity of the events which have unfolded at Ysgol Goronwy Owen, Benllech," said Mr Jones.
"In all my years as a teacher and head teacher, I must admit that I've never come across a situation quite like it," he added.
There had been reports of a meeting on the situation on Friday, but an Anglesey council spokesman said none was taking place.
Mr Jones said he was being kept fully briefed.
"I am also well aware of parent's concerns about their children's future education," he said.
"However, I'd like to reassure parents that their children's education remains our top priority and this is clearly reflected in the he positive steps which have so far been taken by the education service, with the support of the governing body," he added.
Sensitive situation
The commissioner said the external advisor, Gareth Williams, appointed by the local authority and governors, had now met "all key stakeholders, including parents, governors, head teacher, absent staff and the school' s remaining staff".
"As an authority, we believe that the implementation of the action plan remains key in resolving the school's issues," said Mr Jones.
Mr Jones said education officers are doing everything within their power to resolve the matter.
"I must stress, however, that it remains a hugely difficult and sensitive situation for all concerned," he said.
"There are no simple solutions to the problems at Ysgol Goronwy Owen, but we sincerely hope that we can come to a resolution as soon as possible," he added.