Wylfa nuclear power station turbine off after fault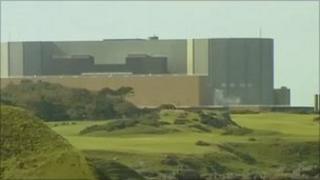 A turbine at the Wylfa nuclear power station had to be turned off following an electrical fault, it has emerged.
The incident at turbine three at the Anglesey plant happened on Sunday and investigations are continuing.
The company said the other three turbines at the site are still producing electricity as normal.
A spokeswoman for Magnox North said there was no decision on when to restart the turbine affected by the fault.
"The investigation is ongoing and there is currently no return to service date identified," the spokeswoman said.
The company added: "Incidents like this do not happen very often. The next planned outage at the plant will be during August".
A two-year extension to electricity production at the plant was in October last year.
The Magnox-type reactors had been due to shut down last December after 39 years.
A fire was also reported the plant in October 2010 but did not lead to a loss of outage.
At the time on site fire officers had found smoke coming from an electrical switch in the turbine hall.
A spokesman later said the incident did not lead to loss of output and there was no danger to the site, staff, public or environment.