Boat restored by Llandrillo students unveiled at Conwy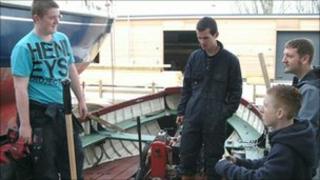 A 1920s boat is being unveiled after refurbishment by college students studying marine engineering.
The harbour launch, named Emma, will be a support boat for another vessel, the Helen II, being restored at Conwy quay.
Students from Coleg Llandrillo Cymru replaced the engine, planks and boards, and updated navigation systems.
Supervisor James Lehane said: "When 'Emma' arrived with us she was in a sorry state but the students have worked hard to renovate her."
He added: "The benefit of a project like this is the real-world problems for which learners have had to find solutions.
"Learners can see the results of their efforts and can feel proud of the finished product."
The boat is being handed over on Friday to representatives of the Helen II project.
The group is working to restore a 100-year-old 43ft (13m) Morecambe Bay prawner, affectionately known as a 'nobby' boat.
They are hoping to win lottery funding to complete the restoration work in the autumn.
The aim is to use the two boats as sail training vessels to teach young people seamanship and boat-handling skills.
'Emma' will be on display during the Conwy River Festival from 13 to 21 August.