Anglesey councillor Peter Rogers cleared of bullying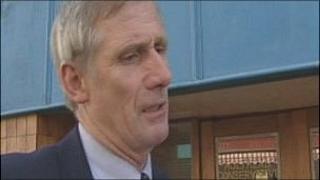 A councillor has been cleared of bullying and harassment after a tribunal hearing into his behaviour at a police station.
But Peter Rogers was found to have brought Anglesey council and the office of councillor into disrepute.
The panel said Det Con Lisa Jones had been left "shocked" a councillor should have behaved in such a way, after he accompanied a resident to Holyhead police station last year.
Mr Rogers said he was "relieved".
But he criticised the length of time the case had taken and the cost to the public purse in bringing it.
He said it had been a "storm in a teacup" but it had cost thousands of pounds and 18 months to bring to a resolution.
North Wales Police Authority had complained to the Ombudsman about the behaviour of Anglesey councillor Peter Rogers.
It follows an incident at Holyhead police station last year when he accompanied a constituent.
Graham Wells, representing Mr Rogers, insisted at the hearing in Llangefni that it "did not amount to bullying behaviour".
The 71-year-old farmer, a former Conservative member of the Welsh assembly, was standing as an independent candidate in the UK general election at the time of the complaint in April 2010.
The adjudication panel found his actions were not a deliberate flouting of the council code of conduct, while Mr Rogers did not attempt to use his position as councillor to influence the police investigation.
The panel decided the police authority code of conduct was not relevant as Mr Rogers, also a police authority member, was at the police station in his position as Anglesey councillor.
He had originally been accused of breaching four paragraphs of the North Wales Police Authority code of conduct and four paragraphs of Anglesey council's code.