National Trust want new tree house for Plas Newydd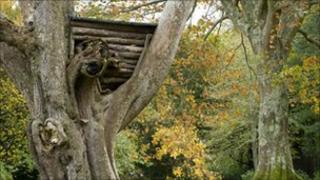 The National Trust has had to take the unusual step of applying for planning permission to build a new tree house at a mansion on Anglesey.
The house, 10ft (3m) up an oak tree, is at the 18th Century Plas Newydd estate, home of the Marquess of Anglesey.
It replaces a 40-year old version built in a sycamore tree for Lord Anglesey's daughter Lady Amelia.
An Anglesey council spokesman said due to the size and nature of the structure planning permission was required.
Trust staff had found the old structure had become unsafe, and then discovered the sycamore tree it was attached to was also rotting.
"I tried to drill into the sycamore and it was like polystyrene, it was rotten and structurally unsafe for a new tree house," said head gardener Paul O'Byrne.
"We found an oak tree nearby, submitted a planning application with detailed design and maps, and commissioned and arboriculturist consultant's report."
A trust spokeswoman said the law on building tree houses changed in 2009 requiring every tree house, no matter its size or surroundings, to have planning permission.
"We're hoping we will be able to have the new tree house open for the summer holidays as the original one was very popular," Mr O'Byrne added.
The old tree house was burned at a community bonfire last November.
An Isle of Anglesey County Council spokesperson confirmed that due to the size and historical setting of the tree house at Plas Newydd, planning permission was sought by the National Trust and granted last month