William and Kate return home to 'special' Anglesey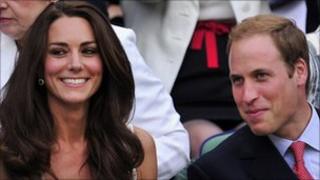 As the Duke and Duchess of Cambridge move back to Anglesey locals say it is the ideal place to begin married life.
The couple have just returned from a high-profile tour of Canada and the US but will take on few engagements this autumn and winter.
William and Kate are also mindful that The Queen "quite rightly should be in the spotlight" for her Diamond Jubilee year, said a spokesman.
The duke is also working towards an RAF search and rescue helicopter captaincy.
Meanwhile the duchess is said to need time to select the good causes she wants to become involved with, as well as learning about her husband's charitable interests.
Special memories
Even in the run-up to their big day, and the rising levels of excitement, the couple enjoyed snatched moments of privacy at their island home, and that is expected to continue.
The island will also hold memories as it was at a lifeboat dedication ceremony at Trearddur Bay that they stepped out for their first royal engagement following the announcement of their wedding.
Nearly 3,000 people turned out to watch the event on a big screen at the Mona show ground.
One of the organisers, public relations consultant Pip Cockeram, said she believes the couple are not bothered on the island because people respect their privacy.
"We aren't star struck and he is here to do a job, and we appreciate the pressures that job brings," she said.
The prince's job as a search and rescue pilot is understood to be vital, she said.
"We are near to Snowdonia, the Menai Strait, and we have the coastal path so it is a busy search and rescue team," she said.
'Flesh and blood'
The reaction of people if they see the couple out-and-about is to smile at them and then carry on, Ms Cockeram added.
"Anglesey people are special, they are very considerate and everyone wants to get on with their lives," she added.
The Rev Emlyn Richards, who has lived on the island for 50 years, had no strong views about the couple and said he wasn't a royalist.
But he believed the couple would do well to begin their married life on the island.
"Because it is an island people have to live relatively close together and, in this mechanical age, it takes just half an hour to get from one end of the island to the other," he said.
Mr Richards said he believed he had spotted the duchess at a local supermarket.
"I've heard people say they've seen Will and Kate around as if they are talking about someone they were at school with," he said.
"This is a good thing because it shows royalty is closer to the people and everyone can see we are all flesh and blood."
If the couple stay long enough they are bound to pick up a local turn of phrase, he added.
"A sure sign that they have settled will be when they start saying 'we on Anglesey, instead of 'those on Anglesey'."