Olympic torch to Anglesey appeal by Albert Owen MP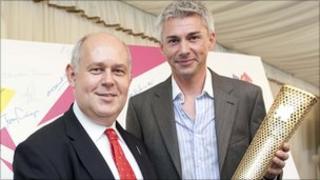 Ynys Môn MP Albert Owen has met Lord Coe to campaign to get the Olympic torch to visit Anglesey.
He says the island is an ideal location, and could be a link if the torch visits Dublin.
The torch is currently scheduled to be carried through Cardiff, Swansea, Aberystwyth and Bangor.
Previously, Wrexham's assembly member has written to the chair of the London 2012 Olympic Organising Committee to ask that her town be included.
Mr Owen said it was especially important the torch visited Anglesey because a weightlifting centre on the island had been selected as an official Olympic training site.
He also called on Anglesey residents to get involved in events being organised alongside the Olympics, including applications for 8,000 "inspirational torch bearers".
"I met with Lord Coe who was very receptive and enthusiastic about the idea of the torch visiting Anglesey," said Mr Owen.
"He has visited Anglesey himself in the past, visiting some of our sports facilities and talking to young sports men and women... Lord Coe is aware of what Ynys Môn has to offer."
The MP said the torch was already visiting several islands around the UK, including Jersey and Shetland.
"Anglesey is at the heart of the British Isles and would provide a spectacular backdrop for the torch route," he said.
In May, Wrexham assembly member Lesley Griffiths wrote to the chair of the London 2012 Olympic Organising Committee to ask that Wrexham be included in the torch relay route.
Ms Griffiths told Lord Coe it would be a "great shame" if the town were not included in next May's route.