'Warm spring' brings more orchids to Caeau Tan y Bwlch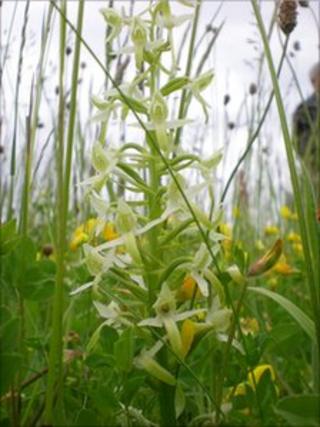 A nature reserve near Caernarfon has recorded its highest orchid count for 25 years.
Conservation charity Plantlife Cymru counted just under 3,500 butterfly-orchids at Caeau Tan y Bwlch.
The final total was 3,495, more than double the 1,439 orchids in 2010.
The native white orchids were found in eight of the reserve's 10 fields. In one field, where no more than 10 orchids have ever been recorded, there were an astonishing 304.
Conservation manager Dr Trevor Dines said the "fantastic" fluctuation in orchid numbers could be down to the warm weather during the spring.
"Greater butterfly-orchids are gorgeous with a faint vanilla scent but have disappeared from many sites across the UK," he said.
Vote of confidence
"Orchid numbers do fluctuate and they will have liked the warm spring but such a huge increase is a real vote of confidence in the management we have introduced here over the last few years with the North Wales Wildlife Trust."
Orchid numbers at the reserve have been increasing steadily with 335 in 2008, 953 in 2009 and 1,439 in 2010.
Although the warm spring weather is said to have contributed to the growth of the orchids, other measures have been introduced to encourage wild flowers to thrive.
Hay-cutting has been reintroduced to suppress vigorous grasses and large areas of gorse are now covered in orchids after being cleared.
The level of grazing has also been increased and fencing of the site has been improved to control livestock.