London 2012: Chinese weightlifters to train in Bangor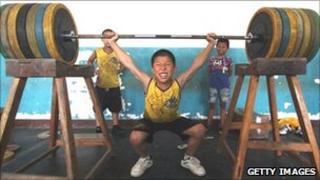 China's Olympic gold winning weightlifting team have picked north Wales as their training camp for the London 2012 Games.
The Chinese Weightlifting Association, comprising 48 athletes, coaches and staff will use facilities in Bangor.
Paralympic teams from Australia, New Zealand and South Africa have already chosen Cardiff and Swansea as their base for the Games.
The Welsh Government says 800 athletes and staff will be based in Wales.
"This is a real coup for Wales as the team has such an impressive track record and have very high hopes for the 2012 Games," said First Minister Carwyn Jones.
China's weightlifting team won eight gold medals from 15 available at the 2008 Beijing Olympic Games.
Jonathan Roberts, of the Welsh Weightlifting Federation, said: "We are privileged to have the world's greatest weightlifters training in our country and it is a fitting tribute to past and present Welsh weightlifters who themselves have won medals in every Commonwealth Games since 1954.
Boxers and trainers
"It is hoped that the visit of the Chinese weightlifters will inspire a new generation of champion lifters in Wales."
Meanwhile, The Trinidad and Tobago Olympic Committee has signed a memorandum of understanding with the Welsh Government that its athletes will be based in Cardiff.
Wales will play also host to the Amateur International Boxing Association Road to London training camp at Cardiff University.
The camp will play host to 100 boxers and trainers from developing nations.
And the Irish triathlon team will be based at Swansea University.