Gwynedd council puts a freeze parking charges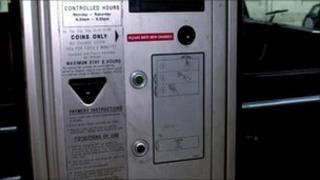 Gwynedd council is freezing parking charges for the next two years.
The authority says the rise in VAT and inflation since the last increase will leave it with an estimated £95,000 shortfall in revenue this year.
Plaid councillor Gareth Roberts said any increase in pay and display charges would be a "recipe for disaster" for town centres and businesses.
Gwynedd council's board agreed to hold a review of fees and freeze rises until February 2013 at a meeting on Tuesday.
'Shopping habits'
A report to councillors says: "The review should consider the impact of parking fees on the local economy and the viability of town centres given the possible impact this could have on businesses and residents.
"This element of the review should include a survey of shopping habits, a survey of businesses' opinion and give consideration to town centre regeneration schemes."
The review is expected to be held over the next nine months with the results fed into the environment committee.
Mr Roberts, who holds the environment portfolio on the board for Gwynedd council, said: "At a time when retail shops in town centres are struggling to survive, we must address car parking issues to address the volatile economic climate."