Bafta Cymru-winning actor Stewart Jones dies, aged 83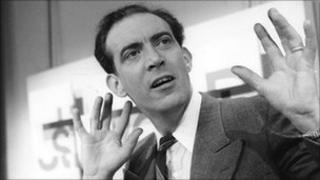 An Edinburgh-born actor who became a Bafta Cymru-winning stalwart of Welsh language drama has died, aged 83.
Stewart Jones was born Stewart Whyte McEwan, and had an unusual upbringing: he was not raised by his parents and moved to Gwynedd with another family.
He grew up in the Eifionydd area of Gwynedd and was a familiar voice on stage, radio, television and film.
He is remembered for Ifas y Tryc, a character devised for him by friend Wil Sam for the programme Stiwdio B.
In 2002 he was awarded a Bafta by Bafta Cymru for his part in the film Oed yr Addewid.
He also appeared in television dramas such as Glas y Dorlan and Talcen Caled and on stage in Under Milk Wood.
His parents were not married when he was born, although they did marry later. The family who brought him up moved with him from Edinburgh to the Eifionydd area of Gwynedd when he was a baby.
The father in the family was originally from Eifionydd and he had gone to Scotland to work as a carpenter on the Forth Bridge.
Jones once said of his early life: "I came on a train in a basket like Moses and was planted in Eifionydd at six months old".
He won the prestigious reciting prize Gwobr Goffa Llwyd o'r Bryn at the National Eisteddfod twice.
Former Welsh Heritage Minister Alun Ffred Jones, who worked with him, said he was a larger than life character and a good and talented actor.
"In the heyday of the local and national eisteddfodau he was a brilliant reciter... possibly the best reciter of Welsh language poetry which was maybe his best accomplishment," he added.