Bangor Sound City to record haircuts for performance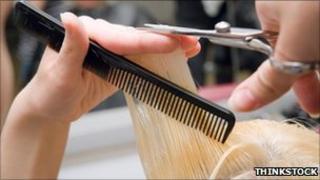 A group of artists will use the sounds of people having their haircuts to create a live performance on the streets of Bangor.
Four professional hairdressers wearing microphones will offer passers-by a free haircut on High Street.
The sounds of the scissors and clippers going will be mixed to give a live performance relayed to the public via giant speakers near the clock tower.
Bangor Sound City is behind the project that runs for the next three days.
The group aims to create public sound-art in and around the city in Gwynedd.
Organiser Iwan Williams said the aim was to turn sounds into works of art.
"In the same way as any thought provoking image could be considered visual art, sound art is any auditory sensation with the power to make you feel or think something different," he said.
"As a recognised genre sound art is quite young, only really coming to prominence in the sixties.
Mexican influence
"But you have to remember that whilst visual art can be traced back thousands of years to cave painting humans have only had the ability to record sound for little more than a century.
"So in one sense sound art has been going as long as one person made a noise and someone else listened to and appreciated it."
The group's first live event was held at a swimming pool in Bangor in January where an audience wearing scuba diving equipment was treated to a performance by DJs played through water-proof speakers.
The latest project is called Toriad which is Welsh for 'cut' and the idea of Mexican sound artist Manuel Rocha Iturbide.
He said the inspiration was a trip to India where he found hair cutters working on the streets.
"It made a big impression on me. I was fascinated by the different hair cutting sounds, changing speed and rhythms in different ways, it sounded like a new kind of bird or flying insects," he said.
"The idea of this performance is to amplify and use the sounds of the four hairdressers, bringing Welsh hair-cutting onto the streets."
Performances on Thursday, Friday and Saturday start from midday.