Gwynedd gives Ysgol y Parc, Bala, 12 month reprieve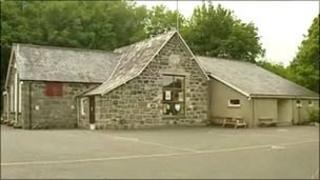 A rural Gwynedd school which was scheduled to close in August 2012 has won a 12 month reprieve.
Councillors voted in May to close Ysgol y Parc near Bala, which has 19 pupils, saying it was too small to be viable.
They have now decided to postpone closure until August 2013 because of uncertainty over the amount of money they will get from the Welsh Government for school reorganisation in the area.
Local people had said they would oppose the closure of the school.
The council had previously said the closure of Ysgol y Parc would save around £70,000 per year and strengthen pupils' Welsh language use.
Gwynedd council's education portfolio leader, Liz Saville Roberts, said in May: "The reorganisation strategy is the only way for the council to address the financial problems that are facing our schools and some of the challenges in terms of education and headteachers that we desperately need to be looking at now."
The authority has presented a bid to the Welsh assembly government for £7.7m towards the £10.2m plan to reorganise education in the Berwyn catchment area.
A decision on that bid was expected during the summer, but councillors decided to postpone the closure because of uncertainty over the funding available.