Pant yr Eithin home in Harlech to close despite protest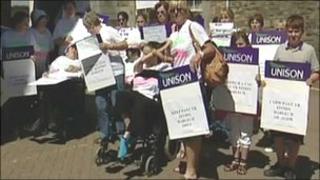 Councillors have voted to close a residential home for adults with learning difficulties, despite a protest by staff and residents.
Closing the Pant yr Eithin home at Harlech will save Gwynedd council about £200,000 a year.
A report to councillors said the decision would lead to an improvement in the service in the long term.
Residents and staff protested outside the council chamber before the decision was taken.
Four of the six residents will be moved to another home, Tan y Marian, in Pwllheli.
Pant yr Eithin employs 16 staff and they will be given priority at the home in Pwllheli, according to a report to the council board on Tuesday.
'Period of uncertainty'
It highlighted a study that said 40% of residential care costs relate to buildings, not the care.
A separate study found with an expected rise in the number of service users in Gwynedd, its current method of care would see costs rise £3m to £15m between 2007 to 2020 unless changes were made.
The report said: "We are aware through the consultation that users, carers and members of the public have expectations in relation to local services, but also services that give better choice and flexibility.
"There is agreement that the traditional model of residential care is unsuitable for the future and this is an integral part of our vision for developing a service for the future."
The report went on to say that the decision would end a period of uncertainty for residents and their families after almost 10 years of discussions over the future of learning disabilities residential homes.