Llandudno pier: No development for 'eyesore' pavilion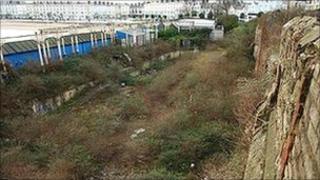 A new report suggests that an "eyesore" derelict pier pavilion in Llandudno is unlikely to be developed in the near future.
Fire destroyed the structure in 1994, and the site has lain empty apart from a few pieces of ironwork since then.
Conwy council says its appearance risks damaging the town's image for tourists.
The site is privately owned and the council said it was still waiting for feedback from the owner as to any plans for the future.
The council report notes that the site lies in a focal position within the designated Llandudno Conservation Area.
There are numerous listed buildings in the vicinity of the site, including The Grand Hotel which is Grade II and the Pier itself which is Grade II*.
The Great Orme provides the backdrop to the site and, together with the whole town, is included in the Conwy and Creuddyn Historic Landscape of Outstanding Interest.
The remains of the Pier Pavilion structure also retain their listed status.
The council says it has been trying to keep in touch with the pier pavilion's owner via his agent.
It says it has been pressing the agent to get his client to reveal any plans for the site and although "pre-application discussions" have taken place it says no formal consultations have been undertaken to date.
The council's Community Overview and Scrutiny Committee will be told that Cadw - which looks after historical monuments in Wales - considers it be an extremely important site in conservation designation terms.
"Its continued undeveloped and unsightly appearance has a negative impact on the attractiveness and image of the town for visitors," states the report.
In conclusion it says: "Without the owner's co-operation, even if planning and listed building consent are eventually granted for the site, there are few mechanisms available to secure implementation of a scheme other than by private sector investment."
Last August David Williams of Llandudno Hospitality Association said it would be better to bulldoze what is left, and the area grassed, if no use can be found for it.
The town's civic trust said last September it would like to see it developed into a museum of the seaside.
"The town was a premier Victorian sea-side resort and I believe Llandudno is the ideal location for a national seaside museum," said the chairman, John Lawson-Reay, at the time.
Conwy council previously said it believed that lifting listed building status on parts of the structure could be key to development.
Councillors will discuss the latest report on Thursday.