Telford man rescued from old mine near Llyn Geirionnydd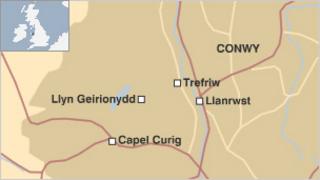 A 54-year-old man was rescued after plunging into water when he went to investigate the shaft of an old lead mine in Snowdonia on Monday night.
The man, from Telford in Shropshire, was unable to climb out of the dark hole near Llyn Geirionydd, a lake above the Conwy Valley.
A passer-by heard his woman companion shouting for help and dialled 999.
Members of Ogwen rescue team used a rope to haul him clear and the man was unhurt.
An RAF Sea King helicopter had been called but was not required.