Zeta has family of kittens in Colwyn theatre's revamp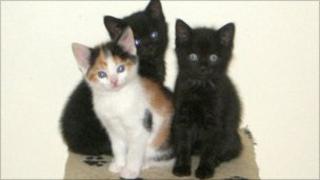 Three kittens have brought their own version of Cats to a Victorian theatre undergoing a £738,000 revamp.
Workmen at Theatr Colwyn in Colwyn Bay were amazed to find a stray cat had given birth in a cardboard box on the stage.
Theatre staff have named them after Welsh stars: the mother, Zeta, and the kittens Novello, Shirley and Bassey.
The kittens needed bottle feeding for a while but are now set to be rehomed by Colwyn and District Cats Protection.
Novello, a black male, is named after Ivor Novello, the Cardiff-born composer and actor who shot to fame after writing the World War One song Keep the Home Fires Burning.
Shirley, a black female, and Bassey, a tortieshell female, are named after singer star Dame Shirley Bassey.
All three kittens made their stage debut while the 125-year-old venue was closed for refurbishment.
Their mother Zeta (after Hollywood star Catherine Zeta Jones) had hidden away to give birth but theatre staff found the box when the kittens were just an hour or two old.
Cats protection volunteers Janet and Ray Gardener were able to catch Zeta and her family. Sadly, a fourth kitten died.
Ms Gardener said: "The kittens had infection in their right eye which was treated over a period of weeks and they have now made a full recovery.
"Zeta was so undernourished that on two different occasions she was unable to produce enough milk to feed them, so Ray and I took turns to bottle feed them, every two hours, until she made a full recovery.
"The great news is that the kittens have now been reserved and will be adopted by a lovely family from Rhos on Sea, after their first vaccination."
Zeta is expected to be put up for adoption shortly, she said.
Theatre manager Phil Batty said: "So many of the burly builders working at Theatr Colwyn on the day they were found went all soppy over them, concerned about their well-being."
The theatre will reopen on 15 October with a special Monty Python event, fronted by hometown star Terry Jones.