Anglesey council commissioners say progress being made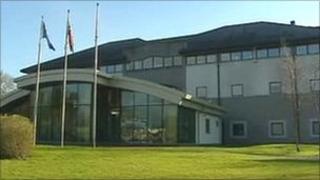 The commissioners appointed to oversee the running of Anglesey council say significant changes are still needed in the way the authority is run.
A report into their first three months in charge says there has been progress in some areas but financial and business planning needs to be improved.
Councillors have been praised for signs of a change in their behaviour.
Local Government Minister Carl Sargeant welcomed the report, but said he was not surprised by evidence of weakness.
Commissioner Mick Giannasi said effective working relationships had already been established and they had a clear understanding of what needed to be done to ensure a "sustainable recovery".
"Services on Anglesey aren't broken by any means, but there are gaps and much more needs to be done to ensure that services are designed to meet the needs and wishes of the people who use them," he said.
"We've been encouraged that officers and members are beginning to understand the cultural and operational changes needed to deliver the necessary reforms.
"We must all - commissioners, officers and elected members - now continue to work together to achieve that."
Mr Sargeant welcomed the commissioners' report and will now consider its recommendations.
"I am pleased to learn the council is making some progress," he said.
"I especially welcome the encouraging signs of change in the behaviour and approach of elected members.
'Poor political leadership'
‪"However, I am not surprised to learn some weaknesses have been exposed in the council's corporate centre and some service areas.
"I have long feared that poor political leadership would undermine service delivery, and the commissioners' report substantiates that."
‪Bryan Owen, leader of Anglesey council, said: "We acknowledge the commissioners' findings and are glad that the report refers to encouraging signs of change in the approach and behaviour of democratically elected members.
"Certainly, I feel there is a new spirit of co-operation across the political spectrum these days.
"I'm hopeful this will lead to the development of a forward work plan that meets the challenges we face in delivering the best possible services to everyone on Anglesey."