Menai Deli loses WRVS Ysbyty Gwynedd sandwich contract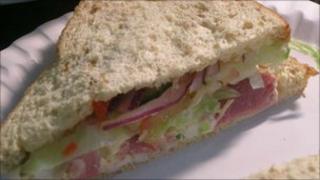 A sandwich row has flared after a delicatessen which supplies a shop and cafe at its local hospital lost its contract to a major food company.
The Menai Deli, which has delivered to the WRVS charity at nearby Ysbyty Gwynedd in Bangor for 20 years, says six jobs will go as a result.
A petition has begun in support of the deli, which has lost out to Ginsters, the Cornwall-based firm employing 700.
The WRVS said it was part of a national strategy to guarantee sandwich quality.
It also apologised to volunteers at the hospital upset by its response to the petition, and said it did not want anyone to feel "they had to make a choice between signing the petition or volunteering for WRVS".
Mr Williams received a letter last week telling him he had three-and-a-half weeks notice his contract was ending.
"It means six jobs will go in two weeks, I'm devastated and extremely sorry for the staff," he added.
Menai Deli has a shop in Menai Bridge, Anglesey, and at the moment employs 10 staff. It supplies the WRVS with 650 sandwiches a day, six days a week.
"One of the ladies here is 64 years old and has been with us for 12 years - it's heartbreaking," he added.
Mr Williams said the petition had been started by supporters at the hospital, and he had been "overwhelmed" with the support his company had received.
Sally Rivers, the WRVS head of service for Wales, said the change of supplier was "to ensure we have a clear and consistent message and product with one national sandwich supplier for all our services".
'Talking to volunteers'
She said: "Ysbyty Gwynedd is the last service in the UK to switch to our national supplier".
"We've been talking to our volunteers to explain why the move to a national supplier will be good for people using the shop, good for the hospital and good for older people in the community," she said.
"Ginsters help us promote our work and encourage more people to volunteer and donate to WRVS, by putting information about the work we do and volunteering on the packaging, enabling us to do even more for older people," she added.
In response to the petition, Ms Rivers said: "WRVS would like to apologise to any of our volunteers who have been upset at our response to the petition that is circulating at the hospital.
"We do not want anyone to feel they had to make a choice between signing the petition or volunteering for WRVS."
Volunteers were the backbone of the organisation, and anyone with concerns should approach them on a one-to-one basis, she added.
The new Ginsters sandwiches go on sale next month.
On Friday Sally Rivers and Frank Garafalo, the WRVS GB general manager, will be holding half-hourly sessions at the hospital for volunteers, staff and "concerned customers" between 09:00 and 12:00 BST.