'M' logo mystery on Carla Lane island chapel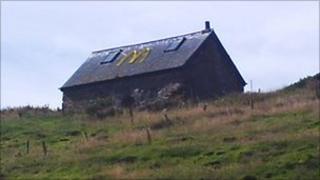 A giant letter M, similar to the burger chain McDonald's logo, has mysteriously appeared on an island owned by TV writer and animal rights campaigner Carla Lane.
St Tudwal's East island off Gwynedd is mostly left as a nature reserve.
Boatman Roy Gregory, who took a photo as he passed the island, thought it was an "odd thing" for someone to do.
A spokesperson for Ms Lane, who wrote hit TV comedies Bread and The Liver Birds, said she was aware it was there.
"I work on the Shearwater taking people on a tour to see the seals and other wildlife, seven days a week if the weather permits," said Mr Gregory.
"I passed on Friday and it wasn't there, we didn't go out on Saturday because it was too rough, and then when I passed on Sunday I saw it," he said.
"I took a picture because it seems such an odd thing to do, although I was laughing," he added.
Mr Gregory says the sign is on the roof of an old chapel building on the island which is usually "deserted".
"The place is left for the birds, as a nature reserve," Mr Gregory added.
Liverpool-born Ms Lane is famed for a string of TV comedies in the 1970s and 80s, which also included Butterflies and Solo, and is a well-known animal rights campaigner.
She bought the east island off the Lleyn peninsula in 1992.
A spokesman said Ms Lane was "aware" the M was there.
"She'll contact you when she's ready," he added.