Anglesey electricity pylon plan causes concern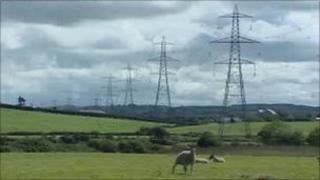 Campaigners have voiced fears at the prospect of overhead pylons being built across Anglesey.
The new infrastructure is needed for the island's energy plans, which includes a possible Wylfa B nuclear power station, a large off-shore wind farm and a proposed bio-mass plant.
But farmers and environmentalists want any cables to go under the sea to link to the National Grid at Deeside.
The National Grid said full public consultation will take place.
Hundreds have joined protests in Powys in recent months after plans for dozens of pylons there, some measuring 154ft (47m), to connect to 10 wind farms.
Sasha Davies, director of the council-backed Anglesey energy island project, said the local authority was aware of the need to have a new electricity infrastructure to cope with energy projects in the pipeline.
"The National Grid are looking at all the strategic options, that includes underground, over grounding, and also putting cables down on the sea bed," she said.
Ms Davies said that in an "ideal world" the undersea option would be preferred.
"But we've got to be practical as we need the jobs here on Anglesey, and indeed we also need to safeguard our tourism and agriculture sectors," she added.
A meeting between farming leaders and the National Grid took place last week.
Dewi Jones, chairman of the National Farmers' Union (NFU) on Anglesey, said members were "very, very concerned" about the possibility of an extra row of pylons.
"The NFU are not opposed to a second Wylfa on Anglesey at all, we support a new power station as it will bring in some much needed jobs to Anglesey to support the economy - but extra pylons will do nothing towards that," he said.
"We have a beautiful island here, they wouldn't put something like this in the national park over the bridge in Gwynedd, so why should they built pylons here on Anglesey," he added.
The Campaign for the Protection of Rural Wales (CPRW) is also pressing hard for any electricity to be carried on the sea bed.
'Money back'
"We're quite determined that we want to see seabed transmission from Wylfa direct to the next grid point which is in Deeside," said Gwyn Morris Jones, the CPRW secretary on the island.
"It would not destroy the area of outstanding natural beauty (AONB) on Anglesey, the crossing of the Menai Strait, the (Snowdonia) National Park and the AONB on the Clwydian range," he said.
There should also be some pay back for the 'privilege' of being able to build a power station on Anglesey, he said.
"They will get their money back over a longer period of time maybe, but ultimately it suits all parties," he said.
"We do not want these ugly lines of pylons destroying, or despoiling, our protected areas," he added.
Balancing
Martin Kinsey, senior project manager with the National Grid, said it had an "important job to do in upgrading and developing the electricity transmission network in north Wales".
Before any decision is taken there would be a "thorough assessment" of the options taking account of community and environmental impacts, while balancing the economic effect and feedback from consultations, he said.
Public consultation is due to start early next year.