Man died in Bangor park of hypothermia, inquest told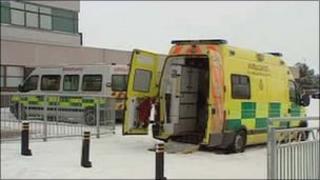 A former Irish policeman died of hypothermia after being found in a park in Gwynedd during the cold snap before Christmas, an inquest has heard.
Patrick John Cleary, 48, had battled alcoholism and prescription drugs but neither were found in concentrations which could have caused his death.
He was found in a park in Bangor after a "freezing cold" night, which had seen fresh snowfall.
The coroner recorded a verdict of accidental death.
A statement from Mr Cleary's wife said that they had met in Ireland where he was being treated for prescription and alcohol abuse.
They returned to Wales and the former member of the Gardai had got better and got a job at a bail hostel near Bangor.
Psychiatric unit
His old problems had come back however, first with prescription tablets and then alcohol.
After a row at home he had threatened to return to Ireland but ended up staying in a bed-and-breakfast in Caernarfon a few days before his death.
He had also been seen at a psychiatric unit at Ysbyty Gwynedd in Bangor on the day before he died.
Because he appeared drunk, and because the unit did not cater to self referral he was told to get in touch with his GP or the local mental health team, the inquest heard.
Mr Cleary said he had been in a B&B and didn't know what to do, said David Hardwick, the deputy ward manager.
After being given advice on how to access help, Mr Hardwick said Mr Cleary had "walked off" to A&E.
Hectic workload
"He looked like an inebriated person, there did not seem to be mental health problems, and it was unclear why he had come in," he added.
In the A&E department the waiting times were long because of the high number of people admitted with fractures after falls on snow and ice.
Charge nurse Stephen Gallacher saw Mr Cleary, who was known to him because he had been to the A&E department 26 times previously.
Mr Gallacher said he told Mr Cleary he had "limited options to help him", but suggested he come back in the evening to see an out-of-hours GP.
Because of the hectic workload he had not realised Mr Cleary had not come back later, he added.
However, when he was on shift again the following morning, 22 December, he was there when Mr Cleary was brought in by paramedics, and it was Mr Gallacher who identified him.
Police sergeant Jennifer Williams said she and a colleague from Bangor station rushed to the gardens next to the bus station in the city on that morning.
"It was freezing cold, snowing for over a week, and there was fresh snow overnight," she said.
"I remember there was no snow on top of him," she added.
"The paramedics tried very hard for some time to revive him," she said.
The coroner said after Mr Cleary's death, his officer viewed hours of cctv images from Bangor in a bid to find any trace of him in the hours before his death, but nothing was found.
'So cold'
Pathologist Dr Mark Lord said there was not enough alcohol and demazepan in Mr Cleary's body to cause his death.
"It was a very, very cold night, and there was no covering of snow on him which would suggest he had been somewhere else before he moved to where he was found," he said.
Anthony O'Brien read a statement on behalf of the family who had travelled to the hearing from County Limerick in the Republic of Ireland.
He said words could not express how hard Mr Cleary's death had been.
He said he was loved "unconditionally" by the family and loved them unconditionally in return.
When he was young Mr Cleary had been interested in sports, and had studied theology before joining the Gardai, he said.
He married his first wife in 1989 and was "blissfully happy" but that was not to last after he developed alcoholism.
"He battled hard" to over come his problems, but failed and he separated from his wife.
Mr Cleary also lost a brother in 1998 and "he was never the same after that... but still struggled with rehabilitation".
Mr O'Brien said Mr Cleary had his "longest time sober" after he moved to Wales and had made many friends in the country he "felt at home in".
Not failed him
The family thanked the doctors and nurses who had tried to help him.
"He never stopped fighting his demons, but unfortunately was not successful", he added.
Mr O'Brien ended by saying, in Gaelic, Rest In Peace.
The coroner Dewi Pritchard Jones said that despite Mr Cleary going to hospital on the day before he died, the system had not failed him.
Mr Pritchard Jones said the advice he had been given had been correct.
It might be that the state, not the hospital, could do better with cases of alcohol and drug problems, but it was not a coroner's place to comment on that, he said.
He added that the fact paramedics had fought to save him made him certain he had died shortly before he was found.
"Had he been there for a period of time they would not have bothered to try to resuscitate him or sent him to A&E," he said.
"My impression is he had been somewhere else during the night and had collapsed in the morning but the fact he was so cold suggests he had been outside overnight," he added.
There was also no indication had intended to take his own life.