One of Wales' oldest women, Enid Williams, dies at 109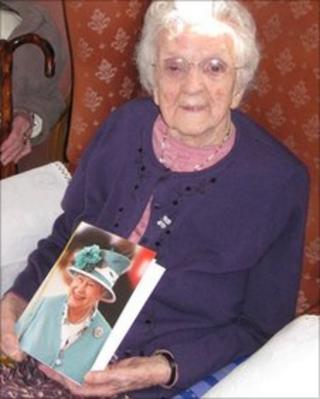 One of Wales' oldest women has died in hospital at the age of 109.
Enid Vaughan Williams died at the Allt Wen Hospital at Tremadog on Saturday after suffering a stroke.
Mrs Williams, who lived at Hafod Y Gest Nursing Home in Porthmadog, Gwynedd, would have been 110 in February.
On her 109th birthday, Auntie Enid, as she was better known, admitted that she did not know the secret of her long life.
"I live just like everyone else," she said.
Mrs Williams is believed to have been the second-oldest women in Wales and was well-known in North Wales.
Narrow gauge railway
She remained active throughout her long life and featured in many TV and radio interviews in which she gave vivid recollections of life in Wales over a century ago.
Auntie Enid was born Enid Vaughan Jones in Froheulog, Penrhyndeudraeth, on 20 February, 1902 - the youngest of Thomas and Mary Ellen Jones's six children.
She attended the local primary school before going on to secondary school in Blaenau Ffestiniog, travelling there like all the children by narrow gauge railway every day.
She trained as a milliner in Porthmadog and worked as a fashion retailer in Cerrigydrudion before returning to Penrhyndeudraeth to help run the family shop.
She married local baker Elias Williams in 1942. He died in 1965.
Auntie Enid performed the official opening of Penrhyndeudraeth's refurbished Memorial Hall and was photographed with personalities including opera star Bryn Terfel.
Mrs Williams' nephew David Morris Jones said: "Until she was taken ill earlier this month she was in good heath and her considerable mental powers showed no signs of fading.
"She was not just an aunt to my sister Eira Lloyd Jones and me, and to her extended family, but also an unofficial "aunt" to the hundreds of people in north Wales who knew her, or who had heard her on radio or seen her interviewed on television."
He paid tribute to staff at the residential home and medical staff who had looked after his aunt.
Her funeral will be held in Penrhyndeudraeth in early September. Details will be confirmed next week.