Complaint over WRVS in Ysbyty Gwynedd sandwich row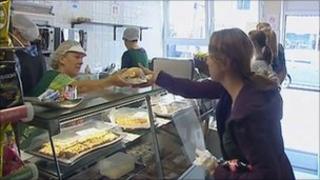 A former NHS trust chair has written to the Charity Commission after a local firm supplying sandwiches at a hospital cafe was dropped for a major food firm.
WRVS tea bar volunteers at Ysbyty Gwynedd in Bangor threatened a walk-out after the charity dropped Menai Deli as part of a UK-wide deal with Ginsters.
Elfed Roberts said his concerns included serious damage to the reputation of the WRVS in north Wales.
WRVS said the move was necessary to sustain its "good work and services".
Menai Deli - which has supplied the WRVS for 20 years - said six staff will lose jobs as a result of losing its biggest customer.
Sally Rivers, head of WRVS services in Wales, said: "WRVS understands that the decision to move to a national supplier has had negative implications on a local level.
"However, it is a decision that has been carefully considered in order to sustain the good work and services delivered by WRVS in north Wales and the rest of the UK."
The charity said Ginsters had plans to open a "mini-sales office" in north Wales, which would employ local people.
It added: "The change of supplier in north Wales is the final step in this measured process with 15 other suppliers having been replaced by Ginsters across the UK already."