Conwy asks residents about paying to park outside homes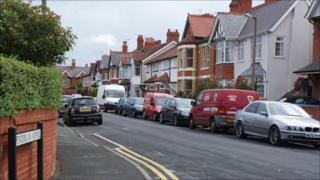 Residents in Conwy are being asked about a parking permit scheme outside their homes.
Councillors have approved a pilot scheme in some streets, and questionnaires will go out to householders.
The council says it follows concerns of parking problems outside homes and that the proposed £80 was "realistic".
But residents in Pendorlan Avenue, Colwyn Bay, had mixed views on the permits.
The street is one of the suggested trial areas in Colwyn Bay, along with Hawarden Road, Grove Road, and Erskine Road.
Residents are due to be sent questionnaires to gauge opinion, and if 75% agree, a parking scheme could be introduced.
A report says: "Residential parking must be self-financing and to this end an appropriate and realistic cost must be charged for the permits."
An estimated permit price of £80 has been suggested.
When BBC Wales visited the street at lunchtime, there were 30 cars or vans, and one moped parked there.
There are fewer than 30 properties in the street, and only nine had residents at home at the time.
All available residents were asked whether they would support a permit scheme, and whether they would be prepared to pay up to £80 for it.
The road is close to the Bayview Shopping Centre which houses a Morrisons supermarket and other stores. Motorists can park there free for two hours, but are charged for anything above that.
According to the council report, there are "pressures from supermarket (Morrisons) parking strategy", and "workers park in residential streets nearby".
Paige Davies, 17, who is learning to drive and lives with her mother and grandparents, said: "I know people who use the shopping centre and park here.
"I think I would probably pay for it, but I know my mum and I don't think she would."
Resident Margaret Hughes said: "There's one lady who comes here at about twenty to eight in the morning and comes back at gone six in the evening, nearly every day.
"I never move my car at night because I wouldn't be able to get back in.
'A nightmare'
"Yes, I would support it, and I would pay if it guarantees you can park outside your own house."
Trevor Davies said: "The problem is we don't know much about their [the council's] intentions. Is it one fee per house, or one fee per car? How are they going to police it?
"Yes, I would support it because parking's a nightmare, and I would pay - but is it going to go up and up and up?"
Neighbour Pauline Whitaker said: "I wouldn't support it. I don't see why we should have to pay.
"I park mine round the back, but the people next door have two cars, so they'd probably need two permits, and that's a lot of money."
Kate Goode said: "No, I wouldn't support it. We're quite lucky because we have a drive, but we have visitors staying at the moment - what do we do then, if people are staying?
"We pay road tax - we should be able to pay where we want, within reason."
Steve Thomas said: "It's a good idea to have permit parking, but why should you have to pay to park in front of your own house? It would be better to make people who don't live here pay."
Asked about the potential fee, he said: "Not really, that's too much."
Philip Wells said: "I would pay if they could guarantee I could park outside my own house, but not if it meant parking up the road."
His wife Ann said: "My husband's got a disabled sticker and sometimes he has to park up the top of the road.
"People know they have got free parking here all day, but they haven't at the shopping centre."
Other suggested trial areas include Llwynon Gardens, Jubilee Street and Albion Street, Caroline Road and Victoria Street in Llandudno.
In Conwy, a trial has been suggested in all residential streets within the walled town.
Village centre streets at Llandudno Junction have also been suggested for the trial.
If there is clear support for the schemes, Conwy council will calculate the cost and identify funding sources.