Ex-Gwynedd councillor Dewi Lewis jailed for PO theft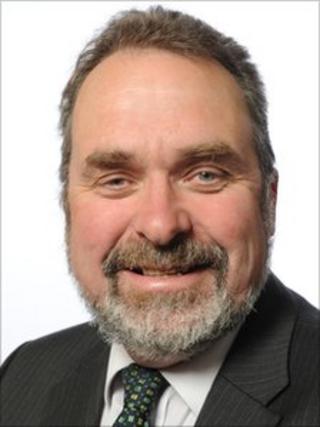 A former Gwynedd councillor who admitted stealing £53,600 while a sub-postmaster has been jailed for 16 months.
Dewi Lewis, 55, who ran the post office in Penrhyndeudraeth, stole the money to try to keep his business, Siop Dewi, afloat.
The post office was run inside the shop.
Caernarfon Crown Court heard the theft, between last August and March, was uncovered in a Post Office audit.
Lewis admitted theft last month and resigned as a Plaid Cymru councillor on Gwynedd council where he previously held the economy and community portfolio.
'High trust'
He has repaid the money after asking for help from his 84-year-old father who remortgaged his house.
Sion ap Mihangel, defending, said Lewis had been £300,000 in debt and took the money from the post office to keep the shop open.
"It doesn't justify what he's done but that was at the root of what he was trying to do. He didn't live a lavish lifestyle," the barrister said.
Judge Merfyn Hughes QC told Lewis: "Sub-postmasters are in a position of high trust and also the public have to have confidence in that service which is provided.
"When there's any abuse of trust that confidence can be seriously undermined.
"You have been a highly respected member of the community, having served as a councillor for a number of years holding a position of responsibility which only highlights the irony of the predicament you have now fallen into."