Welsh Slate quarry workers vote to strike over pay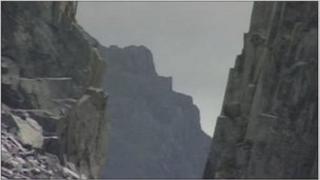 Quarry workers in north Wales have voted to take industrial action in a dispute with bosses over a pay freeze.
Welsh Slate, based at Penrhyn Quarry, Bethesda, Gwynedd, employs 211 people across four quarry sites in north Wales.
The Unite union represents 164 of the workers and 81% voted to take action which could start next week.
The firm said workers' pay, including bonuses, has increased 12% since they took over in 2008.
"We view the current pay offer as realistic given the current market conditions," said managing director Alan Smith.
He said the company was acquired as a loss-making business in 2008 from Alfred McAlpine.
'Feelings running high'
"Since then we have been working hard to turn the company round.
"The pay freeze for 2011 was made with the long-term viability and stability of the company in mind."
But Unite regional organiser Paddy McNaught said workers wanted recognition for their hard work, saying output had remained the same despite the workforce being cut since the takeover.
"Feelings are running very high," he said.
"The company are not showing the same level of support as the workforce.
"Through the hard work of the guys they have turned the company around."
Roofing slate
Mr Smith said he the company would do everything in its power to ensure normal service is maintained during any industrial action.
Welsh Slate is used as roofing slate, as well as architectural and aggregate slate products.
Penrhyn Quarry is said to be one of the oldest and largest slate quarries in the world. The other quarries are Blaenau Ffestiniog, Pen yr Orsedd and Cwt-y-Bugail.
Mr McNaught said the company was being notified of the planned action which could start on Friday, 2 September.
"We have told the company we intend to take action and unless they come back to the table there will be a strike in seven days' time," he said.