Boss of £37m Pontio project in Bangor resigns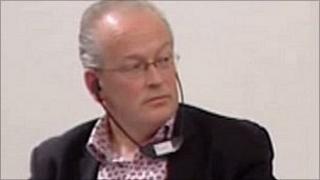 The chief executive of a £37m arts and innovation centre in Gwynedd, has left his post just months after being appointed.
Robert O'Dowd began leading Bangor University's Pontio centre last year. It is due to open by the end of 2013.
BBC Wales' Newyddion programme has learned that he has unexpectedly resigned. Mr O'Dowd did not wish to comment.
Bangor University said he had left to develop skills in other areas.
The appointment of Mr O'Dowd and other members of staff who did not speak Welsh sparked protests by language campaign group Cymdeithas yr Iaith.
In January, Cymdeithas delayed the official launch of the centre, claiming that the project was ignoring the Welsh language.
Business skills
In a statement on Thursday, Bangor University said: "'Following a most successful year leading the early crucial stages of Pontio's development, Robert O'Dowd, chief executive of Pontio, has now decided to leave the university in order to continue to develop his entrepreneurial and business skills in other areas.
"Prior to his appointment at Bangor University, Robert successfully established and directed Designs of the Time, (DOTT) a complex £8.5 million design and innovation public engagement programme in NE England and Cornwall.
"His skills in bringing multi-stakeholder projects such as this to fruition, demonstrate his excellent communication, business skills and acumen all of which contributed to his work at Pontio.
"The university wishes to thank Robert O'Dowd for his commitment to Pontio which benefited in no small measure from his leadership in its crucial stages of development."