Work starts at Bangor City's new football ground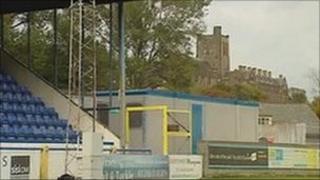 Bangor City Football Club's chairman says work at the side's new football ground is under way.
The Welsh Premier league champions have been looking to move from Farrar Road, their home since the 1920s, for the past 10 years.
Dilwyn Jones said work at the new 3,000-capacity Nantporth ground should be finished by January 2012.
It means the club will be moving stadiums mid-season, a decision Mr Jones admits will be a "challenge".
The Farrar Road ground is to be demolished and replaced by an Asda supermarket.
Mr Jones said: "After so many years of uncertainty, it's good news that work is progressing well, and we expect it to be completed in January 2012.
'Ongoing deterioration'
"We will be moving into the new ground as soon as this work is finished, so this means changing stadiums in the middle of the season.
"Obviously this is not ideal, but we really have little option given the ongoing deterioration in the fabric of Farrar Road, and the ongoing cost of maintaining the old stadium."
He added that the new ground meets Welsh Premier League requirements, with a capacity of 3,000 and 600 of these places being covered seating and 200 uncovered.
"I wish to assure supporters that our plans are to deliver a stadium in Bangor that meets criteria for UEFA competition, and to do this as soon as we possibly can.
"This is a challenge for ourselves as a club but I am confident that by working together with our supporters, the local community, public bodies and the Football Association of Wales we will rise to the challenge and pull together - as Bangor City FC always does."
He said the club's management board was in regular dialogue with its supporters' association and would be answering questions about the development at the next association meeting.