Anglesey search: Lewis Darroch and Callum Mackay named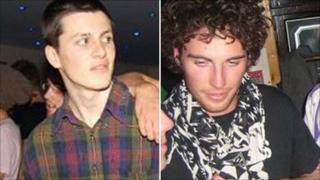 North Wales Police have named two 22-year-old men, one of whom has died and the other still missing off the Anglesey coast.
An inquest has also been opened and adjourned on Lewis Darroch, from Valley on the island.
He was recovered from the water by an RAF helicopter shortly after the incident on Wednesday evening.
A search for his friend Callum MacKay, also from Anglesey, was called off on Thursday.
Mr Darroch was pronounced dead on arrival at Ysbyty Gwynedd, Bangor. No cause of death has been given.
Witnesses say a group of young people had arrived at cliffs at Cable Bay near Rhosneigr with fishing rods.
Police believe one man went for a swim and, when he got into difficulty, the other went in to help him.
In an early report, coastguards said the young men were reported missing after jumping from cliffs at around 20:15 BST, but the circumstances are unclear on how they ended up in the water.
Witness Leanne Sloan watched a group of four set off and then saw only two of them return.
"They got out all happy and jokey with their shorts and everything, just looking for a good time, got a fishing rod out and then they headed to the bay," she said.
"Literally 50 minutes later a young lad and a girl came back and she said that she had witnessed her two friends go over the side. She was hysterical."
A major search for the second man continued until 01:00 BST on Thursday.
It involved the helicopter from RAF Valley, lifeboat crews and coastguard rescue teams.
'Treacherous coastline'
Sgt Manon Owen of the Anglesey policing team told BBC Wales: "What we know is two young men have ended up in the water, we believe for a swim.
"One has gone in first and the other went into help when he got into difficulties.
"Squadron 22 from RAF Valley winched one man to safety but unfortunately he died in Ysbyty Gwynedd.
"The rocks, the current and the heavy weather we had on Thursday make this a very treacherous bit of coastline."
A North Wales Police spokesperson added: "At this time it is not known how the first male entered the water."
Witness Luke Evans, 34, who was surfing in the area, said as he was leaving the water he saw a group of three men and a woman with fishing rods.
"They were just enjoying themselves as they walked to the burial mound," he added.
Mr Evans, who is staying with friends on the outskirts of Aberffraw, said later he became aware of the rescue.
Describing the scene at about 22:30 BST, he said: "[The] Sea King helicopter was going up and down the coast with all its lights on, hovering at around 50ft.
"There were four to five groups on the shoreline, putting up flares, a couple of boats at sea involved in the search as well."
He said he was told one of the men got into difficulty on the rocks and another went to his aid and fell in.