Ronan Keating leads team in Holyhead to Dublin swim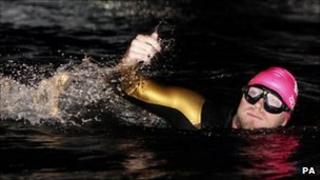 A team of celebrities has begun a gruelling charity swim across the Irish Sea from Holyhead in Anglesey.
Boyzone singer Ronan Keating, Olympic medallist swimmer Steve Parry and Atomic Kitten singer Jenny Frost are among those taking part in the 56-mile swim for Cancer Research.
The 11-strong team set off for Dublin at 2100 BST on Tuesday but the challenge could take 40 hours.
Holyhead Coastguard says everything is going as planned.
At 0600 BST on Wednesday the team were 12 nautical miles south of Holyhead.
Keating, who was the first to swim a stretch of the relay race, has been using Twitter to keep fans and supporters updated on his progress.
At around midnight he wrote: "Time for a quick snooze before I'm back in the sea again for @JoinTheSwim."
'Overwhelming'
He said the turnout of spectators at Holyhead had been "overwhelming".
The team's Facebook page said: "Temp about 15C, jellies a plenty and some pretty rough water."
Also taking part in the challenge, which aims to raise £1m for the cancer charity, is Strictly Come Dancing star Pamela Stephenson, gadget guru Jason Bradbury, and five "super swimmers".
On Monday, Sir Richard Branson pulled out of the swim after fire destroyed his Caribbean home.
The swimmers are likely to encounter treacherous currents, ferries and possibly even sharks during the challenge.
The team, had been due to set off at lunchtime on Wednesday but favourable weather led organisers to bring the event forward by 15 hours.
'Toughest challenge'
Hundreds clapped and cheered at the little harbour at Holyhead Sailing Club as Keating, wearing a black wet suit, pink swimming cap and flippers, made the sign of the cross and took his first steps into the water.
The pop star had earlier waved to fans before he hugged wife, Yvonne, goodbye on the slipway and got some last minute advice from swim organiser Simon Murie.
Bradbury was due to start his first leg between 0100 and 0300 BST and said he would be keeping Twitter followers updated.
Liverpool-born Parry, who won bronze at the Athens Olympics in 2004, said tackling the Irish Sea may be his toughest challenge to date.
Parry was diagnosed with testicular cancer 18 months ago, three weeks after getting married.
Ahead of the swim, the 34-year-old said: "Swimming 56 miles across the Irish Sea seemed like a good idea at the time but now they've told us we're going in a few hours, the size of the task ahead is just starting to dawn on me.
"It's cold, we'll be swimming in the dark, there are jelly fish and other creatures and it's a long way."