Power lifter admits defeat over Criccieth 'feat stone'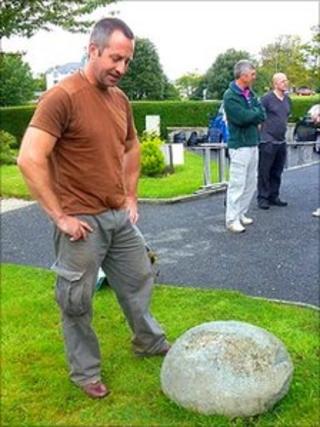 A former power lifting champion has admitted defeat in his biggest challenge - trying to pick up a giant stone in a Gwynedd town.
An old tradition of testing one's strength on "feat stones" is a hobby for Roger Davis, who is also researching a book on stones of strength.
He tried - and failed 11 times - to lift the one in front of Criccieth's memorial hall.
Now local people are considering rekindling the historic challenge for all-comers.
Mr Davis said: "It would take a world class strength athlete to lift the stone".
Myra Poyser, a member of the memorial hall committee, said: "It's quite exciting for us because we didn't know anything about this stone."
Mr Davis, 41, had read of the stone in a biography of David Lloyd-George and travelled from his home in from Hemel Hempstead, Hertfordshire to to try his luck.
He estimated the stone in Criccieth weighed between 160-180kg.
Mr Davis said he had travelled all over Scotland, to Iceland to lift "challenging and famous" testing stones, including the Inver stone and Dinnie stones.
"I can honestly say that this is the most challenging stone I have ever attempted to lift," he said.
"It is not necessarily the weight of the stone that makes it such a challenge, although at my estimation it is 160-180kg which is around 25% heavier than any of the Scottish stones.
"But it is the total lack of grip on this egg-shaped granite stone that prevents it from being lifted.
"I made 11 attempts at lifting the stone, losing a fair amount of skin in the process, but it was not be be, it did not budge an inch."
Mr Davis said he was a former British (drug free) power lifting champion, and became interested in feat stones about 20 years ago.
"Around that time I travelled to Scotland to try and lift the Inver Stone and couldn't do it. I thought: 'How come I'm so strong, but I can't lift a stone?' Albeit a very heavy stone.
"I worked on developing my grip and strength in my wrists on and off for the next 10 years, and then went back to Scotland and lifted the Inver Stone."
His research has uncovered similar stone-lifting traditions in other countries such as Pakistan, China, Germany and Korea. So far, he has only found one such stone in England, at Old Hartley in Northumberland.
Mr Davis is interested in hearing from people who remember the Criccieth stone being lifted in the past, or stories of feat stone lifting that could be included in his book.
"It is a great shame that this important part of Welsh village life appears to have been forgotten, as in my research I have currently only been able to uncover four stones (in Wales) that are clearly identified as feat stones," said Mr Davis.
Ms Poyser, a member of the memorial hall committee, said: "He managed to move the stone but couldn't lift it.
"We are thinking of issuing a challenge to lift the stone, maybe on St David's Day next year."