Sue Jones becomes first female Church in Wales dean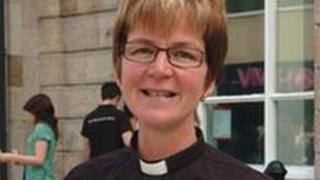 The Church in Wales' first female dean says her appointment is a "privilege and an honour" and shows the faith is "inclusive".
The Reverend Canon Dr Sue Jones becomes the 56th dean of Bangor following the retirement of the Very Reverend Alun Hawkins.
A service to appoint her took place at Bangor Cathedral on Saturday.
Dr Jones, born in Barry, Vale of Glamorgan, was one of the first women priests to be ordained in Wales.
A former Midland Bank employee and trainee teacher, she has been chaplain at Swansea University and director of studies at St Michael's College in Llandaff, Cardiff.
She moved north in 2000 to develop theological study in the Bangor diocese.
She said: "For me, it's a privilege and an honour.
"I'm excited. I think it gives a statement that the church is inclusive and I think I am bringing something different - a female perspective.
"Within the Bangor diocese there hasn't been an issue with women clergy like there has been in other parts of Wales - there are a fair few of us here - but it is good that Bangor will be leading the way.
"In my role previously, I have been training clergy and I will still keep part of that job as well as assisting the bishop.
"The church needs to be seen and heard at the heart of Bangor and I'm looking forward to working with other agencies in the town."
Her role means she is the chief resident cleric of the cathedral, and will assist the bishop in the administration of the diocese.
Her appointment was announced in June.