Murder victim Ffion Wyn Roberts' brother Elgan attacked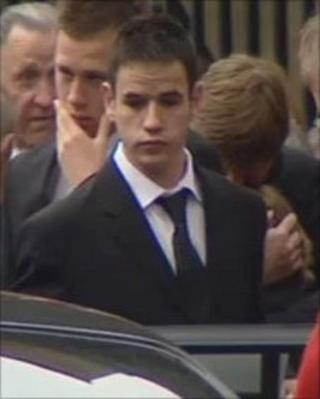 The brother of murdered Gwynedd woman Ffion Wyn Roberts has been taken to hospital after being attacked.
Elgan Roberts, 21, of Porthmadog, had been due in court on Monday after admitting being drunk and disorderly and resisting a police officer.
Magistrates in Llandudno were told he was unable to attend the hearing after being assaulted and the case was adjourned.
Iestyn Davies, 54, was convicted of Ms Roberts' murder in April.
Factory worker Davies was ordered to serve a minimum of 25 years in jail.
Ms Roberts' body was found in a drainage ditch in Porthmadog in April last year after she disappeared on a night out.
Her parents spoke out earlier this summer about how they were considering leaving the town because of the family's treatment by some in their community.
Her brother is understood to have been attacked at Caernarfon at the weekend but North Wales Police said the injuries were not serious.
A police spokeswoman added: "No arrests have been made."
On 19 September, Elgan Roberts was given a 12 months community order, imposed with supervision and told to pay £85 costs. His solicitor told magistrates he had not been able to address underlying issues with alcohol because of the emotional difficulties he had faced in the last year.