Anger over Gloddaeth Avenue closure for 24-hour race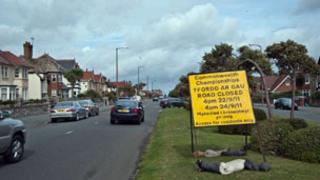 Residents in Llandudno are angry at plans to close their street for a 24-hour road race.
It is part of the Commonwealth Mountain and Ultra Distance Running Championships held from 23 to 25 September in north Wales.
A Gloddaeth Avenue resident claimed there had been a lack of consultation.
But Conwy council said measures had been put in place to minimise disruption and residents would have access to their homes.
"There has been a total lack of consultation with around 100 residents who will be affected in Gloddaeth Avenue and nearby roads," said resident Mike Pritchard.
"It's not just the odd house being affected here, you have lots of flats whose residents will be affected," he added.
Mr Pritchard described Gloddaeth Avenue as a "dual carriageway with trees in the middle", and the race will be run "round and round and round for 24 hours", he said.
Economic benefits
He said residents were first told about the event when a note was put through their letter boxes "a couple of weeks ago".
"When we looked into what was happening we realised it was quite an event, and we don't understand why it's being held on a main thoroughfare into Llandudno," he added.
Coun Graham Rees, cabinet member with Conwy Council said the council had an extensive events programme that helped to bring significant economic benefits to the county and raised the area's profile as a major tourism destination and centre for sporting excellence.
He said a range of measures were being put in place including maintaining access for local residents and keeping noise to a minimum.
"We believe these measures will help to deliver a successful event and minimise the impact on residents," he added.