Conwy councillors' concern over 6,000 new homes plan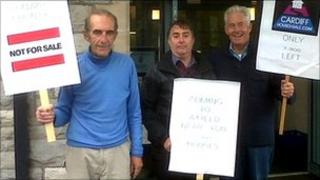 Conwy councillors are asking for a re-think on plans to build 6,000 new homes in the county over the next 10 years.
That is the number of properties needed to meet population growth in the county projected by Welsh Government figures.
Councillors are concerned about the effect so many houses could have on the county, leading to a loss of green space.
The Welsh Government said that the authority could contest the population estimates.
At a special meeting on Thursday, councillors discussed the county's Local Development Plan (LDP), which outlines what can be built and where between 2013-2022.
'Love the place'
The meeting heard that many people were concerned that the LDP included too many homes.
Tim Rowlands, who represents part of Abergele, said: "An influx of that size will have drastic consequences on the town, its road infrastructure and medical facilities.
"Green space is fundamental to our culture, and here we are proposing to build houses on some of our greatest assets."
His Conservative colleague Margaret Lyon said: "We're all here because we love the place where we live and appreciate what we've got.
"I take issue with the Welsh Government telling us how many houses we have to have and where they've got to be built."
Liberal Democrat councillor Mike Priestley, referring to the 35 people in the public gallery, said the council needed to listen to people's concerns.
But Independent councillor Goronwy Edwards, the cabinet member responsible for delivering the LDP, said he was concerned that the special meeting was taking place at all.
Population predictions
"It puts us at risk that we won't deliver the plan at all, and makes us vulnerable to losing control of our own development if the Welsh Government then take over the process instead," he said.
Councillors voted to back a proposal put forward by Plaid Cymru's Phil Edwards that the council should ask the Welsh Government to review its population predictions for the county and to publish up-to-date guidance on the issues.
The councillors also voted to ask for clarification on what they said were "inconsistencies" in the messages from Welsh Government ministers and civil servants about what freedom the authority had to decide on the number of houses that should be included in the plan.
A Welsh Government spokesperson said it did not dictate to local authorities on housing provision.
"Our statistical division issues trend-based population and housing forecasts so authorities can ensure that they are preparing for what may happen in 15 years," said the spokesperson.
"This is the starting point when preparing a plan, not the final figure."