Llandudno sea wall damage prompts Conwy council concern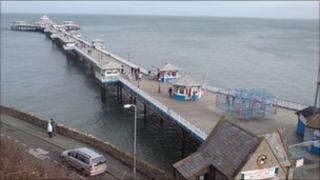 Repairs to part of a sea wall's defences may have to be paid from public money, because no-one knows who owns it.
A Conwy council report says a section near Llandudno pier has collapsed, and needs repairing before damage is done to a road above the area known as Happy Valley.
Repairs will cost £350,000 or £750,000 to replace it completely.
Members of the authority's cabinet will discuss the issue on Tuesday.
The report says as the sea wall at the damaged location is designated as a private frontage, the council would normally serve notice on an owner to repair its structure.
But it has not been possible to establish who actually owns it.
"Whilst the council has no duty to undertake these repairs, it should now determine what actions should be taken before the onset of winter, when storms are more likely, thereby increasing the risk of further damage," writes environment manager Dyfed Rowlands in his report.
Climbers and cyclists
Conservative councillor Margaret Lyon, who represents the area, said repairs were essential because the road forms the start of a route around the scenic Great Orme headland.
"If we don't do something about the sea wall, it will threaten some important tourist attractions," she said.
"If something is going to cause problems it's sensible to deal with it straight away."
The Marine Drive around the Great Orme is popular with walkers, sightseers, climbers and cyclists.
The report adds that it is difficult to know how long the cliff would last if repairs were not carried out.
"Failure to carry out the sea wall repairs will leave the cliff face unprotected and would eventually leave Happy Valley Road at risk of collapse into the sea," it said.
"The time scale for collapse is difficult to predict and would depend on the frequency and severity of future storms and the integrity of the slope material.
"If the works are not carried out at this time, the extent of the failed section of sea wall will continue to deteriorate in the short term, thereby increasing the cost of future works."