Farm row over Wylfa B nuclear power site on Anglesey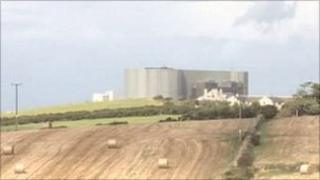 A dairy farmer says he will refuse to sell his land to a firm that wants to build a new generation nuclear power station next to Wylfa on Anglesey.
Richard Jones said if he were to lose any of the land that has been in his family for 300 years the farm would not be viable.
Horizon Nuclear Power said it wanted to avoid using compulsory purchase powers.
The company has already bought about 570 acres of land on the island and is looking at a further 160.
Mr Jones, who runs Caerdegog Farm near Llanfechell, said 65 acres of their best agricultural land plus another 20 acres that they rent, were under threat.
"This would mean that 80 cows that we milk would have to be dispersed and the land remaining would not be viable as an agricultural unit," he said.
'Fight to the end'
"I realise people need jobs but at what cost? I can't understand why they need so much land.
"They've said they can force us to sell but I'm going to fight to the end.
"We've been here for so long there isn't a price in the world they could offer that could buy Caerdegog."
Eifion Hughes, chairman of the Farmers Union of Wales milk committee, said some farmers had already sold their land to the firm while others, like Mr Jones, were refusing.
"The union is in a very very difficult position here because you can't condemn Wylfa and you can't praise it either," he said.
He said the loss of the land would have a devastating effect on the farmer and his family.
Natural surroundings
"It's his home. It's his family's home and he knows nothing else, and it's a heck of a shame if something like this has to happen," he added.
Horizon has stressed it wants to avoid using compulsory purchase powers.
In a statement, it said: "The land we have available for the permanent buildings for a new power station at Wylfa has a fixed boundary.
"But we may need some more land outside this area for temporary use during the construction phase, or for landscaping to make sure the eventual look of the station fits the natural surroundings.
"We're still working up the plans for the site layout but we've been explaining this situation to our near neighbours and we're talking to local landowners about possible extra needs and also because we do need some access to land to carry out environmental studies."
The UK Government confirmed in June a list of eight sites it deemed suitable for new power stations by 2025, including the site for Wylfa B.