Welsh Mountain Zoo's £5m tropical dome project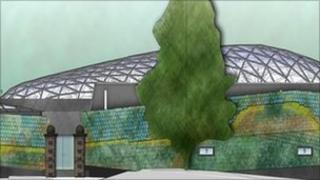 A £5m project to transform a Conwy zoo with a tropical house under a glass dome has been unveiled.
The Welsh Mountain Zoo in Colwyn Bay said exotic plants and animals, including alligators, would live under the dome.
Conwy council said it would be the region's response to Cornwall's Eden Project.
A report to councillors said the zoo needed to develop to remain the area's most-attended visitor attraction.
The Eden Project visitor attraction is famous for its artificial biomes - or domes - which house plants from around the world.
The mountain zoo said its smaller dome could result in visitor numbers increasing from 135,000 to 185,000 a year, and could create jobs.
Exciting
A Conwy council report said the dome would provide a state-of-the-art visitor experience and far-reaching benefits. Conwy Council's Welsh Mountain Zoo report
There are plans to apply for funding from the European Union, which is also supported by the Welsh Government, the council said.
Nick Jackson from the zoo called it an exciting and ambitious project.
"What's planned is a glass dome, but a lot smaller than what you can see at the Eden Project.
"It will be full of tropical plants and animals, including alligators, other reptiles and fish.
"It will have a skills and training centre for further education students from Llandrillo college. It will also encompass the zoo's existing education unit for eight to 11-year-olds."
Innovative
Exhibitions about the Welsh landscape and countryside and information about food generation in Wales will go on show in an adjoining building.
It will also have exhibits about countryside skills like dry stonewalling and hedge laying.
The council report said: "The concept project idea is for this attraction to be north Wales' response to the Eden Project, with innovative renewable technologies as part of the fabric of the building.
"The Welsh Mountain Zoo is the region's most-attended visitor attraction, and in order to remain so, they are aware that they will need to develop the site and offer an innovative and unique visitor experience."