Council to pay to repair Llandudno sea wall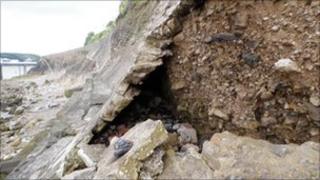 A sea-wall in Llandudno is to be repaired by Conwy council at a cost of £350,000 because no-one knows who owns it.
The council cabinet heard that urgent repairs were needed to a section of the defences to the west of Llandudno pier because it has been undermined.
This has left the cliff and road above the wall in danger of collapse.
The area is the start of a route around the scenic Great Orme headland.
"It's impossible to know when there might be further collapse, but we do need to take urgent action on part of the wall," said Mike Priestly the council's cabinet member for the environment.
"The road above is also the access to the tourism businesses on the Great Orme.
"Doing this work will be a clear vote of confidence in the industry there," he added.
The cabinet agreed that the head of financial services, Andrew Kirkham, should look for ways for the council to pay for the work.