Carl Sargeant anger Conwy Council refuses to share post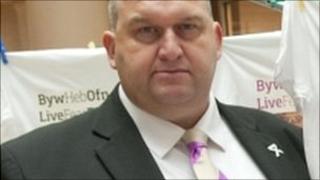 The local government minister says he is "profoundly disappointed" a council is to hire a new chief executive rather than save money by sharing one.
Carl Sargeant wants neighbouring councils to share more senior staff but admits he has no power to overturn Conwy Council's decision.
The council is to go ahead with the appointment later this month.
The Welsh Government said Mr Sargeant has made his views on making savings known "very clearly".
Ministers are pressing all councils to share senior staff to cut costs.
The authority considered replacing Mr Davies, who resigned in June, by sharing the post of chief executive with another council, but decided against it in July.
This came only weeks after Mr Sargeant had attacked councils as "complacent," and challenged them to work together to reduce senior staffing costs in a difficult financial climate.
He said the staffing structure across Wales' 22 local councils was outdated, with too many of them independently hiring chief executives without looking at other options.
Mr Sargeant warned council leaders he was expecting "much more progress" and threatened he may take action to force the pace.
Earlier this month, a blueprint for a radical shake-up of Welsh councils emerged, in which Mr Sargeant set out regional groupings for operating council services.
This would include the six councils in north Wales sharing some services.
So the decision by Conwy has been greeted with dismay. The authority is to hold interviews for the vacant chief executive post on 29 September in a meeting of the full council behind closed doors.
'Innovative staffing'
In a letter sent to a council taxpayer, Mr Sargeant's office said he was not happy with the decision, but the law gave him no power to do anything about it.
"The minister is keen to see local authorities take a more strategic approach to collaboration and believes strongly that more innovative staffing practices should be part of that," says the letter.
"In particular, he has made it clear that local authorities must do more to share senior staff, in the interests of saving money and stimulating wider collaboration on service delivery."
It added that he "does not have any powers to instruct local authorities on the process it must adopt when appointing a chief officer" and that "local authorities are free to adopt whichever recruitment processes they wish, as long as it complies with the relevant legislation".
The letter also stated that "the option to make a joint appointment was put before the council but that this option was rejected".
"The minister subsequently informed the leader of the council that he was profoundly disappointed with this decision; however, under current law he has no power to overturn it," it says.
A Welsh Government spokesperson said: "The minister has said very clearly that local authorities must take every opportunity to make savings and recruit the best quality people to deliver our ambitious change agenda.
"The regional collaborative footprint for public services, which was discussed by the cabinet in July, underlines the need for more effective working between organisations."