Fire crews tackle Old Castle building blaze at Holyhead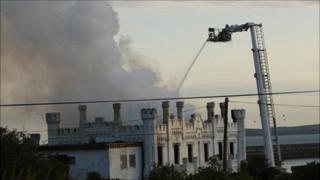 Firefighters have been tackling a large blaze at an empty building at Anglesey said to be used by homeless people.
Fire broke out in the Old Castle building on Soldiers Point Quay, Holyhead, at 05:40 BST with crews still fighting the blaze seven hours later.
Three fire engines and an aerial ladder are at the scene of the former house and hotel built in the 1850s.
Meanwhile, five people, including a baby, were rescued when fire broke out at flats in Aquarium Street, Rhyl.
The baby was carried down an aerial ladder by firefighters, and a child was carried out of the house while three adults were led to safety at about 22:30 BST on Wednesday.
The fire, which caused heavy smoke damage, broke out in a downstairs entrance. An investigation is to be carried out into the cause.
At Holyhead, the owners of the Old Castle building, said it was part of a planning application to develop the site.
A statement from the company Conygar Stena, which includes the ferry operator Stena, said they are "extremely saddened" by news of the fire but remain committed to the plans.
"The derelict hotel and immediate surrounding site was earmarked for a new maritime museum and associated visitor attractions in the Congyar Stena Holyhead Waterfront development plans," it said.
"Action is being taken to again secure the site and to establish the position as regards the structure that is still standing.
"Discussions in this respect will be ongoing with the Isle of Anglesey Council. In the meantime we urge all members of the public to refrain from going to the site."
The building was originally constructed as the home of the superindentent of breakwater constructed on the quayside in the 1850s.
It was has been a private home and a hotel over the years before becoming empty several years ago.
Fire crews remained at the scene at 14:50 BST.