Man faces dangerous driving charge over 4x4 on Snowdon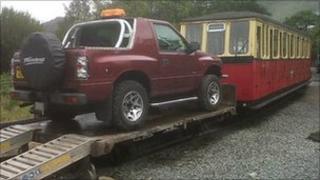 An out-of-work vehicle recovery technician has been charged with dangerous driving after a 4x4 vehicle ended up near the summit of Snowdon.
Initially Craig Williams, 39, from Gloucestershire, faced charges relating to driving on moorland or common land on 4 September.
Caernarfon magistrates were told that the evidence had been reviewed and that he now faces the additional charge.
No plea was entered and he was released on unconditional bail until 7 October.
The prosecution solicitor, Tom Morgan Jones, told the court that the extra charge had been brought because: "We believe there was a real danger to individuals and a substantial risk of damage to property, in particular, the track of the Snowdon Mountain Railway."
The hearing was adjourned for three weeks to give Mr Williams' solicitor time to study the paperwork.
Mr Williams appeared in court in a black suit. He spoke only to confirm his name and address, and was not asked to plead guilty or not guilty.
The court heard that, on 3 September, he drove his Vauxhall Frontera to within 200 metres of the summit of Snowdon.
As he left court, Craig Williams said: "This charge has only been brought this morning, and is seriously higher. This is probably to produce an example so that no other people try it themselves.
"And I don't condone that people try this.
"But it's very curious and very surprising that this higher offence has been brought to court.
"It just needs time to investigate, and the case has been adjourned pending that investigation and a fuller account of what happened."