Bus, car and security van in collision near Bangor M&S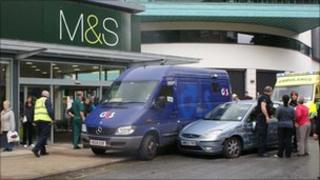 A bus, car and security van have been involved in a collision outside the bus station in the centre of Bangor.
The G4S van was parked outside Marks and Spencer in the Gwynedd city when the collision occurred at about 13:00 BST on Saturday.
It led to traffic building up in the area and blocked the bus station.
No injures have been reported, and North Wales Police said traffic had begun moving again slowly within the hour.