Tanker and fishing boat collide off Anglesey coast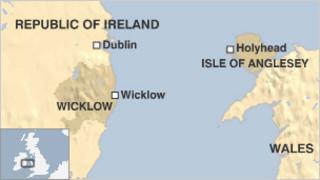 A tanker and a fishing boat collided 20 miles (32km) off the coast of Holyhead on Anglesey, coastguards say.
Holyhead coastguards were called to the incident at 0400 BST, which involved a tanker called Ocean Lady and the fishing vessel Bridget Carmel.
The fishing boat was damaged but its crew of three were uninjured and there are no pollution issues.
The Ocean Lady has been taken to Milford Haven in Pembrokeshire where she will be inspected.
It is not known what cargo, if any, the tanker, which sailed from Rotterdam, was carrying.
The Bridget Carmel is being escorted back to Ireland by a lifeboat from Wicklow.